30 Mar

2012 Audi A4 3G MMI Wireless CarPlay Module and Rearview Camera Installation
Hello! This is INDIWORK GARAGE. Today, we have an AUDI A4 vehicle that has just arrived at our GARAGE. We will be installing an Apple CarPlay, Android Auto module, and an OEM-style rearview camera on this 2012 Audi A4.
Product is
"SCB-AU(Q5U)" ,"AU4G-N536″
First. we begin the installation, we mask the vehicle to prevent any scratches at our GARAGE.
The module is installed using a connector-by-connector method, which significantly reduces the likelihood of future issues.
The rearview camera product is an integrated design with the trunk handle and the camera. It maintains the OEM Audi appearance without any damage to the exterior design.
The product can be used with both wired and wireless connections. The image above shows the USB connector for a wired setup. We can place it in a location preferred by the customer. Though both wired and wireless usage is possible, we recommend using a wired connection. This is because wireless connections may occasionally experience buffering or disconnection issues when compared to wired connections.
After the installation is complete, we conduct a functionality test and fine-tune the equalizer settings for each vehicle, as audio settings may slightly differ among them.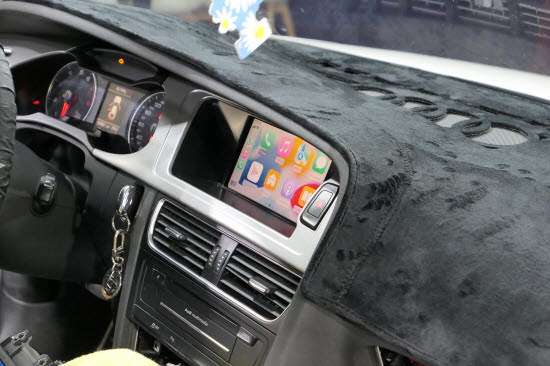 The CarPlay can be controlled through the Audi 3G MMI controller, and app execution is possible through voice recognition via SIRI.