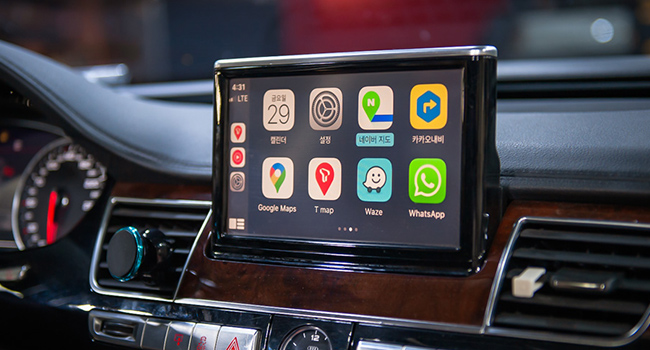 03 Jun

2010 Audi A8 3G MMI, Apple Carplay&Android Auto
2010year AUDI A8 3G MMI In The INDIWORK Garage. —– * Apple CarPlay & Android Auto & Phone Mirroring Devices Used : – SCB-AU-A8 (Universal Carplay Interface For AUDI A8 3G MMI) —– SCB-AU-A8 Carplay interface including android auto for AUDI A8 3G MMI Full digital ,Full screen Apple carplay Controlled by original Jog shuttle of MMI Original mic and speaker through Quad lock connector Reverse cam input Front cam input HDMI input
The AUDI A8 takes about twice as long to install the Carplay interface compared to the A4, A6 and A7. A quad-lock type connector is connected behind the MMI unit, and the carplay interface is installed in the passenger side. To connect the iPhone Lightning cable in the armrest console, we mounted a additional USB slot.
The original screen and the Carplay screen are switched through the original NAVI button. The existing MMI remains intact. After switch the screen, and the Carplay mode is controlled through the MMI jog shuttle.
'SIRI' voice recognition function is supported. Press and hold the jog shuttle for 1 second to run 'SIRI' in Carplay.