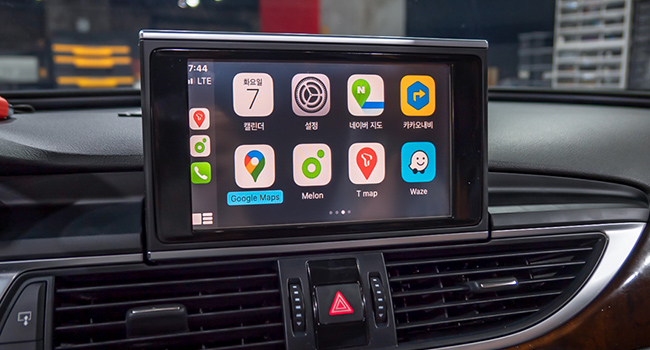 10 Jul

2012 Audi A6 3.0TDI 3G MMI Apple Carplay Installation
2012year AUDI A6 3G MMI In The INDIWORK Garage. —– * Apple CarPlay & Android Auto & Phone Mirroring Devices Used : – SCB-AU-A6 (Universal Carplay Interface For AUDI A6 3G MMI) —– SCB-AU-A6 Carplay interface including android auto for AUDI A6 3G MMI Full digital ,Full screen Apple carplay & Android auto Iphone wireless mirroring & Android auto wire mirroring Controlled by original Jog shuttle of MMI and voice through "SIRI" Original mic and speaker through Quad lock connector Reverse cam input Front cam input HDMI input
To install the carplay interface in the Audi A6, the head unit of the center console and glove box must be removed first. The main quadlock harness and LVDS cables provided in the package are connected behind the head unit. The original microphone and speakers are connected via the main cable, and all components are plug and play. And, the AUX creation method is slightly different depending on the Audi models. In the case of the Audi A6 3G MMI, the original 'external audio input' is activated via VCDS to output the carplay's sound to the original speakers.
After install the interface and components, first test that the carplay system is working properly before reassembling the car parts. Whether the phone is recognized well when connecting an iPhone, Carplay control via original MMI controller, The original speakers sound out, microphone recognized, Whether it collides with the original system, and etc…
If everything is good, reassemble all the parts. By install the carplay interface, you can use various apps other than videos.