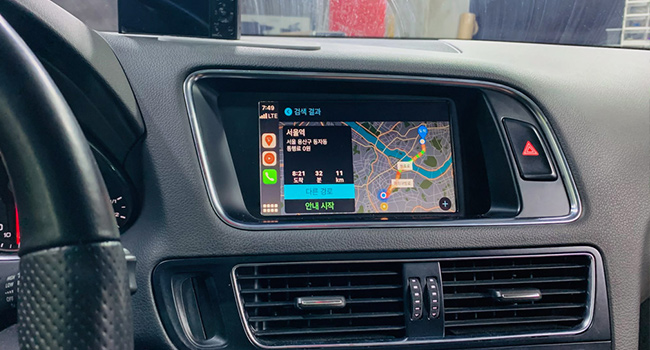 29 Jan

2015 Q5 3G, Install the Apple CarPlay module
2015 Audi Q5 3G MMI
Apple Carplay & Android Auto Retrofit
Devices Used :
– SCB-AU-Q5U(3G) Universal Carplay Interface
SCB-AU-Q5U is compatible with Audi Q5(8R) 2010y~2017y models with 3G MMI and 7-inch monitor.
Full digital, Full screen Apple carplay.
Controlled by original Jog shuttle of MMI.
Original mic and speaker through Quad lock connector.
Reverse cam input.
Front cam input.
HDMI input
2015 Audi Q5 3G MMI In The INDIWORK Garage.
We are going to install SCB-AU-Q5U CarPlay module on this Q5. To install the CarPlay module, remove all the navigation&multimedia devices already installed, and then restore all car systems to their original state. And remove all devices and check that the original system is working normally before install the CarPlay module.
The SCB-AU-Q5U CarPlay module connects to the car's head unit. All cables required for installation are included in the package box, and they are plug-and-play. So there is no damage to the original cable. However, the Audi AMI cable for AUX connection and external microphone not included. If you need these, you must purchase them separately.
For this audi, there is no original microphone, so I was installed an external microphone. so, you can use voice recognition and call functions through an external microphone. However, it is slightly inferior to the original hands-free function.
Connect the head unit and the module body, and test whether the carplay system works well before reassembling the car parts.
Through the CarPlay system, users can use the navigator and music apps except for the video apps.