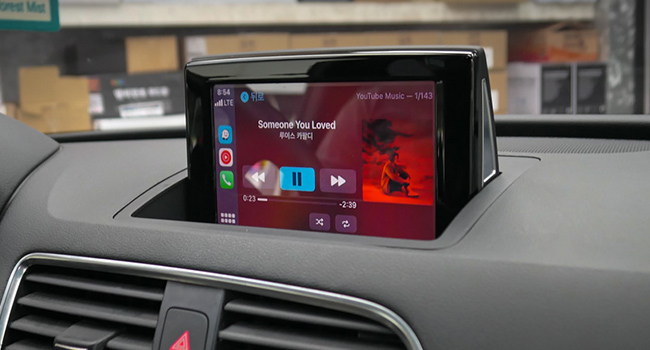 20 Jan

Audi Q3 3G MMI Apple Carplay Retrofit
2015 Audi Q3 3G MMI
800*480 Screen Apple Carplay Retrofit
Devices Used : – SCB-AU-Q3S(3G) carplay module (Integrated video interface)
SCB-AU-Q3S is compatible with Audi Q3(8U) 2014year- models with 3G MMI and 6.5-inch monitor.
Full digital, Full screen Apple carplay.
Controlled by original Jog shuttle of MMI.
Original mic and speaker through Quad lock connector.
Reverse cam input.
Front cam input.
HDMI input
2015 Audi Q3 3G MMI In The INDIWORK Garage. The SCB-AU-Q3 CarPlay module is used to the Audi Q3. It is compatible with Audi Q3 models with 3G MMI after 2014 year~. The cables required for installation are included in the package, and they connect to the car's MMI head unit by plug-and-play. Check the product detail page for components. If you need an AMI cable or an external MIC, they must be purchased separately. We provide the instruction manual for buyers. By referring to this, you can easily install the interface. After installation, set the dip switch. And when connecting your smartphone to CarPlay by wire type, we recommend using for each phone manufacturer genuine cable. Please, never using "Adapter Type and Multi cable".
The Audi Q3 has an MMI system in the center fascia. After installing the CarPlay module, CarPlay is controlled through MMI in the center fascia.
Original MMI mode and CarPlay mode are switched via the original NAVI button. And the CarPlay system is also controlled by the Jog dial and MMI button. You can download and use apps such as the Navigator app, Google Map, and YouTube Music from the Play Store. The sound of CarPlay is output to the car's original speakers by activating the car's AUX menu. And voice recognition and call function work through the original microphone in CarPlay system.