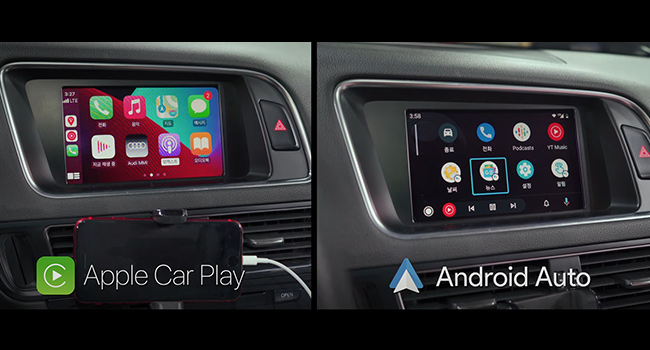 28 Jan

Audi Q5, Both available Android Auto&CarPlay
2011 Audi Q5 3G MMI
Apple Carplay & Android Auto Retrofit
Devices Used :
– SCB-AU-Q5U(3G) Universal Carplay Interface
SCB-AU-Q5U is compatible with Audi Q5(8R) 2010y~2017y models with 3G MMI and 7-inch monitor.
Full digital, Full screen Apple carplay.
Controlled by original Jog shuttle of MMI.
Original mic and speaker through Quad lock connector.
Reverse cam input.
Front cam input.
HDMI input
Before install the carplay interface, we have to remove the navigator device installed before. Because for install the carplay interface, the car multimedia system must be in original state and nothing has been installed on head unit.
And after remove all old devices and cables, we test original MMI system works well first. then start install the SCB-AU-Q5U carplay interface. Carplay interfaces we sell is plug and play type, and main cable is quad lock type. so, there is no damage to the original wirings. If you want remove this carplay interface, you can remove it at any time and the car will be completely restored to its original condition.
Cables required for installation include in package, we provide the instruction manual to buyer, only.
But important, external MIC or Aux Cable are not included in basic component. If you need these, please purchese them seperately in our online shop.
Any way, For This Audi Q5 model, we activated AUX through VCDS coding. and we additionally installed an external MIC cable because this audi dosen't have original MIC. If install the external MIC, use can use the voice recognition 'SIRI' or 'OK google', and can use the hands free call function. However, in the case of hands-free, the performance is inferior to that of the original.
And then, when carplay installation is complete, you can use carplay or android auto via wired or wireless. But, there may be intermittent interruptions when using wireless method, so we usually recommecd using the wired method. Also, it is recommended to use genuine cable for stable system use.