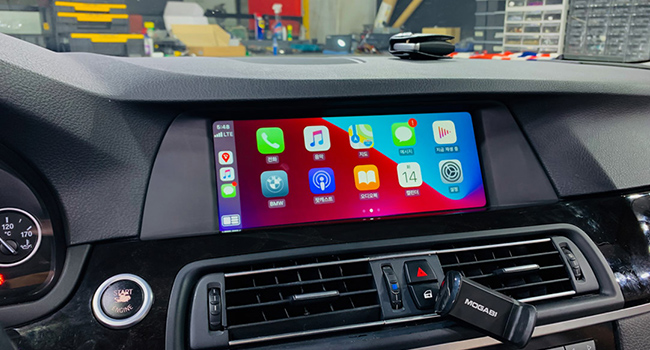 16 Jul

2011 BMW5 F10 CIC 8.8″Carplay Installation
2011 BMW 5 series F10 CIC In The INDIWORK Garage. — * Apple CarPlay & Android Auto & Phone Mirroring Devices Used : – SCB-CIC (Universal Carplay Interface For BMW CIC) — 8.8inch 1,280*480 Full Digital, Full Screen, Correct Ratio! iPhone Carplay and Android phone android auto Plug and play installation through Quad lock connector Mic in and Sound out through original line Reverse camera input Front camera
Check point for installation. 1. (Carplay microphone linkage) If howling gets worse while talking on the phone: This issue can be resolved depending on the installation position or angle with using an impedance-optimized microphone, 2. When operating the Apple Carplay with i-Drive controller, the original menu hidden behind the system may be activated. This should be checked while changing the connection method between the CAN BUS cable of carpaly and the CAN BUS cable of the car. So, in addition to removing the head unit, which is basically necessary for installing the carplay interface, there are cases where it is necessary to remove the i-Drive.
Connect the iPhone with lightning cable to the USB slot to launch Apple Carplay.
Carplay Main Menu. 1280*480 resolution, original ratio & full digital.
You can use all apps supported by the carplay platform. Also, it is possible to control by voice recognition through 'SIRI' even while driving.