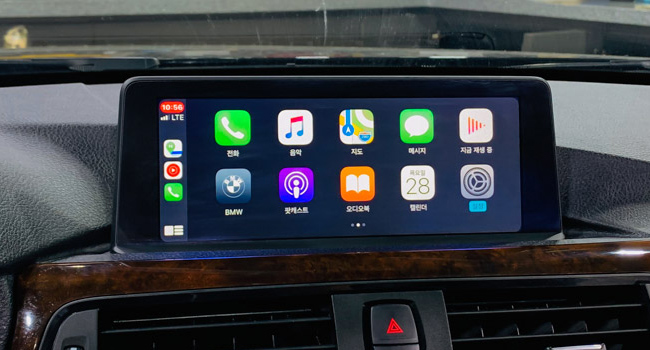 02 Jun

2012 BMW 320D(F30), Apple Carplay&Android Auto
2012year BMW 3 Series F30 (NBT) In The INDIWORK Garage.
—–
* Apple CarPlay & Android Auto & Phone Mirroring
Devices Used :
– SCB-NBT (Universal Carplay Interface For BMW NBT)
—–
SCB-NBT Universal type Carplay Interface
1,280*480 Full Digital , Full Screen , Correct Ratio !
iPhone Carplay and Android phone android auto
Plug and play installation through Quad lock connector
Mic in and Sound out through original line
Reverse camera input
Front camera input
The carplay interface 'SCB-NBT' connect to original head unit via original quad-lock cable. and the LVDS cable of interface is connected to the back of the monitor, allowing you to switch between factory mode and carplay HDMI screens.
We took about an hour to remove the parts, connect the connectors, and reassemble the parts.
The carplay system has the same resolution of 1280*480 as the original monitor of the BMW F30. Also, it has correct aspect ratio, so a distortion-free screen is displayed.
You can use all apps supported by the CarPlay platform, and 'SIRI' voice recognition function also.
Android Auto has a lower performance than CarPlay. The resolution is 800*480, and you need to download the 'Android Auto' app first. and some settings are required, cable extension is not possible, and you must use a genuine cable.