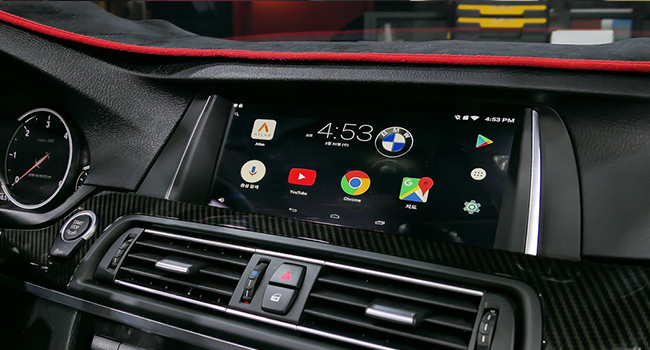 21 Feb

2015 BMW F10, M2C Android Settop with Touch screen
2015 BMW 5 series F10 In The INDIWORK Garage.
———-
* Car Android System with Touch screen
Devices Used :
– M2C Carblet (Android Settop Box)
– IW06B-N23 (HD-LINK / Video Interface for BMW NBT)
– 10.2″ capacitive touch panel
– GPS Fakra Cable
-Used the capacitive touch screen, the touch sensitivity is sensitive and multi-touch is supported.
-Using the GPS FAKRA cable, it has the same sensitivity as the original GPS.
-Android voice recognition available.
-HDMI port on the interface allows you to connect external devices such as Apple TV or PC.
(* Require check the compatible resolution with the interface.)
10.2 " capacitive touch panel
The interface is installed inside the dashboard and the settop box is installed outside.
Android (M2C-100IW) installation is complete.
You can download and use the apps from the Playstore.
All languages provided by Android are supported.
Microphone is installed and OK Google, voice support can be used.
You can use YouTube while driving.
Run the navigation app
Android system solution for cars operated by touch.