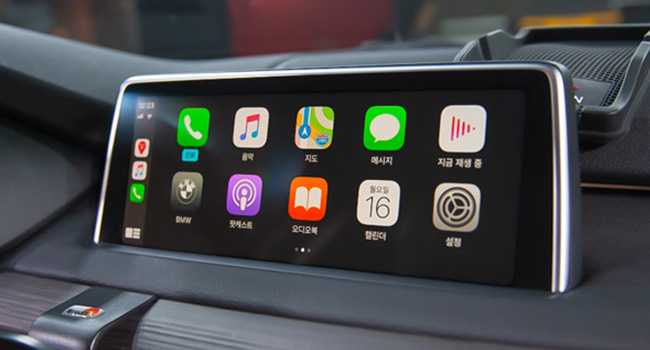 19 Dec

2015 BMW X5 F15 (NBT) Apple Carplay Built-in
2015 BMW X5 (F15) In The INDIWORK Garage. ———— * BMW X5 (F15) NBT Carplay Installation Devices Used : – SCB-NBT Carplay interface – 1,280*480 Full screen, High resolution, Correctly ratio of 10.2inch wide screen – Carplay controlled by Original i-Drive – Reverse camera input – Front camera input – One Device including interface & Plug and play connector – Mic in through Original Mic line & Sound out through original speaker line
The SCB-NBT model is a carplay interface that supports BMW CIC-HIGH (NBT). It supports the same resolution as BMW wide monitor's genuine resolution 1,280*480 and the screen is output with correct aspect ratio and full digital resolution.
1. To install the SCB-NBT carplay interface, first remove the head unit and connect the wirings. The INDIWORK provides manuals for all interfaces we sell. Users can connect the component cables by referring to the manual.
2. Since the LVDS video cable and main quad-lock connector are Plug & Play, so, original cables are not damaged.
3. The port that connect the iPhone and the carplay module was built-in. 4. I reassembled the original parts, and the installation was completed.
When running Apple CarPlay with an iPhone, the images are displayed in 1,280-480 digital resolution.
When running Apple CarPlay with an iPhone, the images are displayed in 1,280-480 digital resolution. ​Audio output is available only through the AUX menu. For original APPs or common APPs of the iPhone, compatibility is good. This is a rare case, but if the internal CPU of interface stops working, you can reset it by pressing the 'BACK' button on the original i-Drive. BMW X5 (F15) NBT Carplay installation SCB-NBT Carplay interface -1,280*480 Full screen, High resolution, Correctly ratio of 10.2inch wide screen -Carplay controlled by Original i-Drive- Reverse camera input- Front camera input- One Device including interface & Plug and play connector