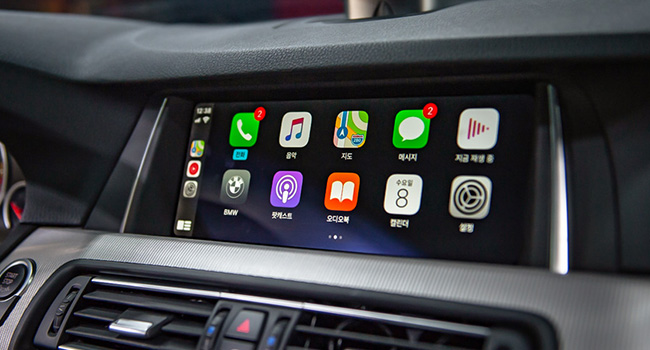 13 Apr

2016 BMW M5 (NBT System), Apple Carplay & Android Auto Installation

2016 BMW M5 Apple Carplay
2016 BMW M5 The INDIWORK Garage. ———— * Apple Carplay & Android Auto Devices Used : – SCB-NBT (Universal type Carplay Interface) ——– 1,280*480 Full Digital , Full Screen , Correct Ratio ! iPhone Carplay and Android phone android auto Plug and play installation through Quad lock connector Mic in and Sound out through original line Reverse camera input Front camera input
BMW Wood Trim Removal > IN/OUT connection to the head unit and behind the monitor screen via quad lock cable and LVDS cable. All of Carplay's components are plug-and-play type, so there is no damage to the original wirings. Also, since it uses original speakers and a microphone, there is no need to install external devices. Therefore, the time required for module installation is short.
But, we create a USB port in the center console. This work takes time and effort, and it took about an hour.
Adding a USB port to the center console makes it easy to connect a phone. Connect your phone here and the SCB-NBT carplay interface will work. No separate setting or manipulation is required, and carplay begins immediately.
It is very useful to run apps through voice recognition in the car. Users can play navigation or music apps through 'OK google'. And then, the sounds of the apps running in Carplay are output through the original AUX.
Apple Carplay & Phone Mirroring..
The carplay system is controlled by i-Drive and buttons.