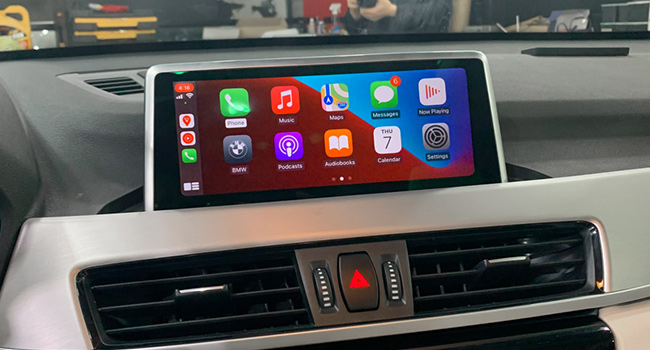 26 Jan

2020 BMW X1 Monitor Size-Up & Apple Carplay
Screen Size up from 6.5″ to 8.8″ & Apple CarPlay Retrofit
Devices Used : – SCB-EVO Universal Carplay Interface
The SCB-EVO is compatible with BMW NBT EVO i-Drive6 with 6.5-inch/8.8-inch original monitor.
1,280*480 Full Digital , Full Screen , Correct Ratio!
iPhone Carplay and Android phone android auto.
Plug and play installation through Quad lock connector.
Controlled by original i-Drive buttons.
Mic input through original line and sound out to speaker by USB-AUX.
Reverse cam input.
Front cam input.
This is the 2020 BMW X1 (F48) with 6.5-inch screen monitor. We plan to expand the 6.5-inch screen to 8.8-inch and install the CarPlay interface for BMW EVO.
Before proceeding the installation, I pre-purchased and own an original 8.8-inch (ID6) monitor for the F48. It is not easy to obtain this because the available quantity is small and the price is high.
This is an 8.8 inch wide monitor for BMW X1 F48 (ID6), and it is new unused product. And, there is no touch function.
Compared to the 6.5-inch screen, it looks very large and spacious.
However… if change the monitor to 8.8 inches, we need to purchase the bottom trim finish separately and change it together. But we do not have this. So, after install the CarPlay first, and we decided to purchase the finish material and install it later.
We reassembled the monitor without the bottom finish and turn on the OEM system. It works fine.
Installed EVO CarPlay Interface SCB-EVO. Car models compatible with this device can be found on the product detail page. All cables required for installation are included in the interface package. However, a car without AUX may require an additional AUX-USB cable for AUX connection, and if you need, you must purchase it separately. In carplay system, you can use various apps such as google map, or youtube music, waze, etc, and call function also. and it supports the voice recognition via 'SIRI'.
This is the bottom trim finishing material of 8.8″ monitor.