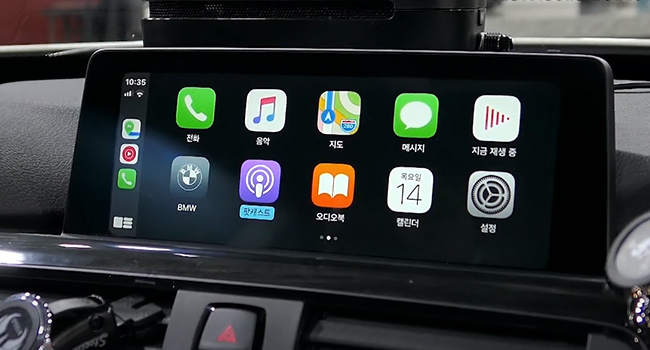 22 May

BMW 3GT, Digital Apple Carplay Wired & Wirelss
2015y BMW 3GT (NBT) The INDIWORK Garage. ———— * Apple CarPlay & Android Auto Devices Used : – SCB-NBT (Universal Carplay Interface For BMW NBT System) ——– 1,280*480 Full Digital , Full Screen , Correct Ratio ! iPhone Carplay and Android phone android auto Plug and play installation through Quad lock connector Mic in and Sound out through original line Reverse camera input Front camera input
The SCB-NBT (carpaly interface for bmw nbt-based) is a kind of video control device. so, it is connected to a OEM head unit like other interfaces.
all components of carplay interface are plag and play type that connect with original cables via quad lock, so installation doesn't not damage to original wiring. And it works with original mic and speakers. The biggest advantage is that the video is output at 1280*480, which is the same as that of the original monitor. and full digital and correct aspect ratio, also. But, please note, for android auto, the resolution is 800*480. It scales to fit the monitor, so apple carplay is better in terms of image quality and usage.
To easily connect the Apple Lightning cable to the USB slot, we created an additional USB slot on the console.
Before fully assembling, we tested that the system works well. The sound is output to the car's speakers via AUX, and the carplay is controlled by the iDrive controller. and user can use the voice recognition function through the original microphone.