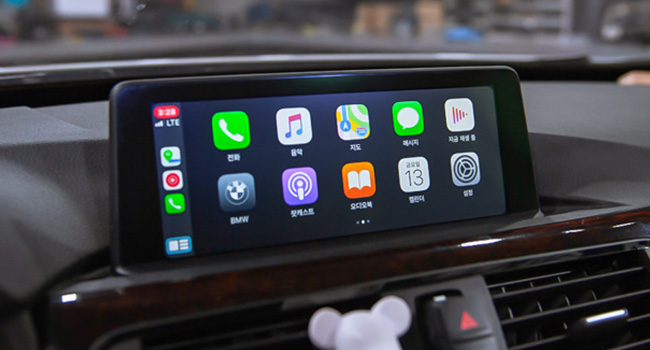 16 Mar

Installed the Apple Carplay in OEM monitor of the BMW 3GT F34 2015

2015year BMW 3GT (F34) Apple Carplay & Android auto Build Up !

SCB-NBT Carplay Interface

1,280*480 Full Digital, Full Screen, Correct Ratio !

iPhone Carplay and Android phone android auto

Plug and play installation through Quad lock connector

Mic in and Sound out through original line

Reverse camera input

Front camera input

HDMI Input
2015 BMW 3GT (F34) The INDIWORK Garage.
————
* Apple Carplay & Android Auto
Devices Used :
– SCB-NBT Carplay Interface
​
————
– Interface-integrated CarPlay Settop box for BMW original Monitor.
– Available the Wired / Wireless Apple Car Play, Wired Android Auto.
– Support the wired and wireless smartphone mirroring.
– Digital High Definition
– Can be connected with external rear camera, front camera (Omni view, Around view).
– Operated by genuine buttons. (Touch not used.)
– Jack by jack cable, Easy installation.
I must be removed the head unit and glove box for interface installation. and I removed the console part to embed a USB port for smartphone connection.
All cable connections are plug and play. The original wires or cables are not damaged at all.
I meticulously tape the cables with a sound-absorbing tape to prevent any noise that may occur inside. The carplay system through the external interface works perfectly.
If I connect the iPhone to the installed USB slot with a wired cable, CarPlay will work. It is controlled by the original jog shuttle, and SIRI is available through the microphone.