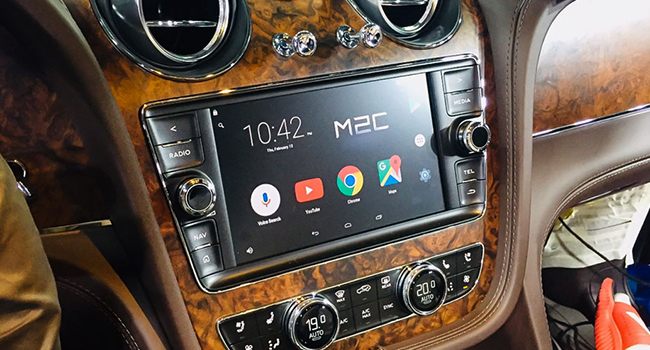 03 May

Bentley Bentayga, M2C Android Box with Original Touch system
Bentley Bentayga In The INDIWORK Garage. ———- * M2C Android Box with Original Touch Devices Used : – M2C Carblet (Android Settop Box) – IW-MIB2-N23 (HD-LINK Video Interface) – GPS Fakra Cable 1.Touch control via the interface is 115,200 Uart method. 2. The GPS reception is excellent because it uses a Fakra cable that uses a genuine GPS port. 3. All components are installed invisibly.
The head unit of Bentley is in the glove box of the passenger seat. The interface is connected to the head unit.
In order to reduce the disassembly of the car, the length of the LVDS cable was extended via adding an extension LVDS cable. Also, I used a GPS fakra cable and a DMB fakra cable. (Jack by jack) The external module is not used, so the exterior is clean and the reception is excellent.
The microphone was installed inside the interior lamp to make it invisible.
There is a microphone where finger points.
The Bluetooth connection provided by the Android device is disconnected intermittently, and there is a delay between the screen and audio. so, I connected the audio out wiring of the M2C device to the AUX INPUT of the armrest console. When connect the audio directly to AUX, there is very little delay between the screen and the audio.
The installation of M2C Carblet is complete.