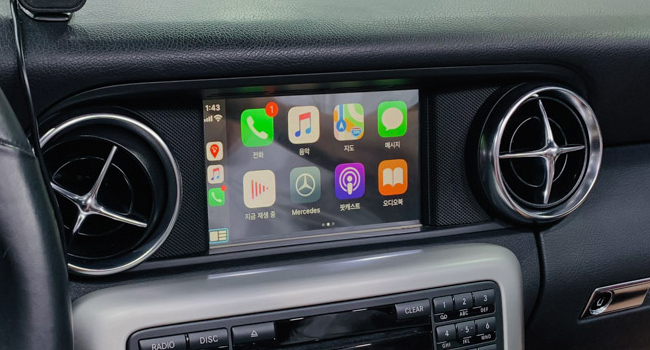 25 Jun

2012 Mercedes Benz SLK200 NTG4.5 Apple Carplay&Rear PAS System
2012year Mercedes-Benz SLK200 In The INDIWORK Garage. —– * Apple CarPlay & Android Auto & Smart Phone Mirroring * Parking Assist System Devices Used : – SCB-NTG4.5 (Universal Carplay Interface For MB Comand NTG4.5) —– Full HD type, High Resolution system. Using same as oem system with oem buttons. No need to cutting wire "All wires are Connected by connector" Easy to install Supports wireless Car Play and wire Supports Smart Phone Mirroring
The SLK is a unit based on NTG4.5, and the carplay interface to be applied is the SCB-NTG4.5 model. All existing modules will be removed, and a new carplay interface will be installed.
An additional USB port for connecting the iPhone Lightning cable was installed on the armrest console.
In the case of iPhone (Carplay), there is no problem with the phone recognition rate even if the USB cable is extended, but in the case of Android Auto, if the cable is extended, there is a problem with the recognition rate.
After installing the carplay interface, test the operation before reassembling the parts. Original MIC test, and sound check through AUX..
All APPs supported by the Apple Carplay platform are output to the vehicle's monitor, and the sound is output to the speakers through the AUX. It is also possible to run and close the app with a voice command.
With the APP& APP function supported from IOS 13, you can view the map and YouTube music at the same time. And the rear parking system function, which was not present, was also newly implemented.