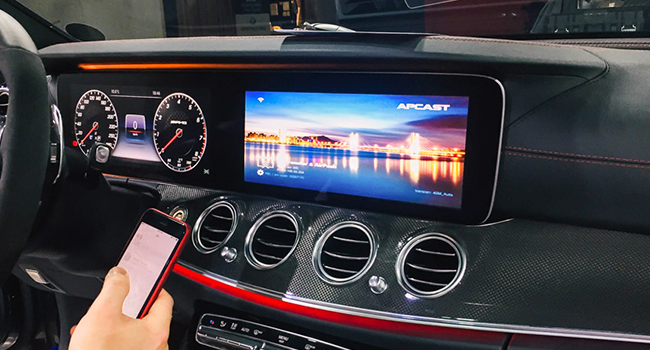 18 Mar

2019 Benz E W213 Wireless Phone Mirror & AUX-USB
2019 Mercedes Benz E-Class W213 In The INDIWORK Garage. ———- * Wireless phone mirror system Devices Used : – IW-NTG55-N23 (Video Interface for Benz NTG5.5) – APCAST (Wireless wifi receiver) – AUX-USB
We disassemble the car to install the interface. You can find out how to disassemble it on YouTube.
This is a dedicated video interface for the Mercedes Comand NTG5.5 version. This is necessary to install a phone mirror system. The APCAST connect to the HDMI IN port of interface.
Wiring instructions for installation are given in manual. We provide manuals for all interfaces. Except for some wiring connections on the main cable, all are plug and play.
When you switch the screen to HDMI mode using the original button, the default screen of APCAST is output. This screen allows you to connect your phone wirelessly with APCAST.
The quality of the mirroring is not good because the original monitor is very large and the resolution is high. The resolution of mirroring is the resolution supported by the video interface.
It is better to change to the 5: 5 PIP screen. We used AUX-USB to output the sound to the car's speakers. The AUX-USB has a slight delay between screen and sound.