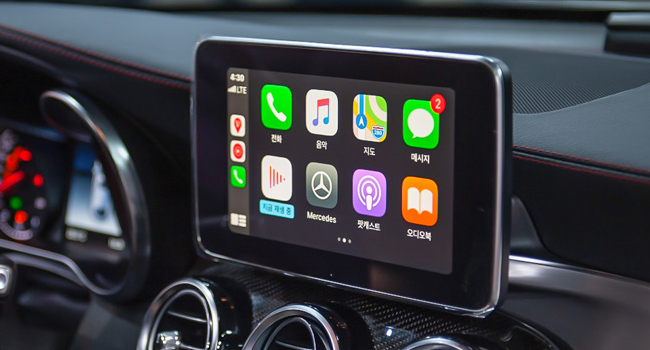 08 Jul

2019 Mercedes-Benz GLC43AMG Wired Apple Carplay
2019year Mercedes-Benz GLC43AMG In The INDIWORK Garage. —– * Apple CarPlay & Android Auto & Smart Phone Mirroring Devices Used : – SCB-NTG5.0 (Universal Carplay Interface For MB Comand NTG5.0) —– SCB-NTG5 Carplay interface for C , GLC ,V ,X 8.4inch screen Full Digital 960-540 resolution Apple carplay for original resolution of screen Controlled by original Jog shuttle Original mic and speaker through Quad lock connector Reverse cam input Front cam input HDMI input
To install the carplay interface in Mercedes-Benz GLC model, the center fascia must be removed first. There is no difficulty in installing the interface because there is ample space inside the center fascia. The quad-lock type main harness cable is connected to the back of the head unit. The original MIC, canvas wiring, and power are all connected through the main harness at once. And the video LVDS cable is connected to the display port of the head unit. Bacause the car does not have the original AUX menu, we activated the AUX menu through an OBD type module with a built-in coding program. The carplay interface fully supports the original resolution of 960*540.
I made an additional USB slot inside the armrest console to connect the iPhone's USB Lightning cable. And all installed cables are taped with suction tape to eliminate noise.
Working test. Screen switching with original buttons, jog shuttle operation control, voice recognition through original microphone, sound output through original AUX, original rear operation. Through the SCB-NTG5 CarPlay interface, all apps supported on the Apple CarPlay platform can be used.