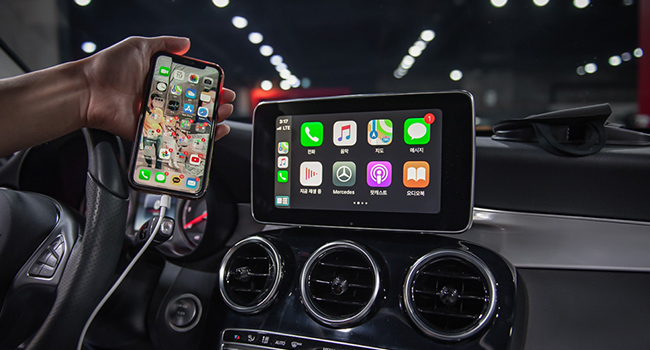 26 May

Mercedes GLC220D Apple CarPlay 960*540 Full Digital
2017year Mercedes Benz GLC220D (NTG5.0) The INDIWORK Garage. ———— * Apple CarPlay & Android Auto Devices Used : – SCB-NTG5 (Universal Carplay Interface For Benz Comand NTG5.0) ——– SCB-NTG5 Carplay interface for C , GLC ,V ,X 8.4inch screen Full Digital 960* 540 resolution Apple carplay for original resolution of screen Controlled by original Jog shuttle Original mic and speaker through Quad lock connector Reverse cam input Front cam input HDMI input
For the Mercedes GLC, there is plenty of space inside the center fascia, so we easily install the interface here.
To connect the iPhone Lightning cable, we created a USB slot inside the Armrest console.
After all the installation is complete, connect the iPhone to the USB slot and CarPlay will run immediately.
If I press and hold the jog shuttle on the carplay screen, 'SIRI' is executed, and the voice is recognized through the original microphone. And I activate the original AUX via a external OBD-AUX module. Then the sound of the carplay is output through the car's original speakers. (Apple carplay system implemented in full resolution and full digital.)