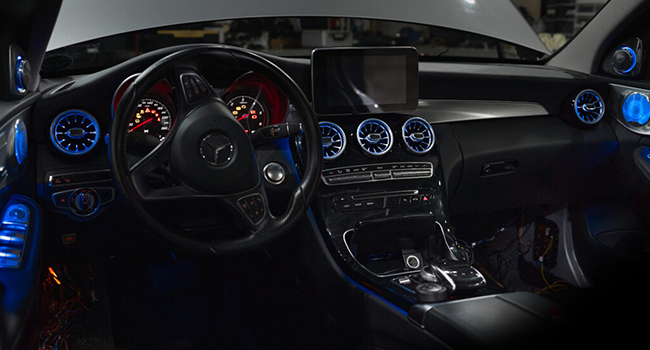 18 Nov

Mercedes W205 Ambient AirVent light 64Color
2016 Mercedes-Benz C-Class W205
Ambient light Package AirVent, Tweeter, 64Color
Devices Used :
– Ambient Lighting 11 Parts For Mercedes C-Class
Compatible with Mercedes W205
Upgrade from 3color to 64 Color Brightness up.
Turbine Style Ambient Air Vent.
Burmester Style 3D-Ambient Tweeter.
Burmester Style Ambient Speaker Cover.
2016 Mercedes-Benz C-Class W205 In The INDIWORK Garage. I replaced the Mercedes-Benz ambient airvent lights. It can give a colorful point to the interior of a car that can be a bit normal.
These are the products that will be used for this time. A total of 11 parts, including the turbine style ambient air vent, the boomester style 3D ambient tweeter, and the boomester style ambient speaker cover, will be used to make the interior brighter and flashier.
The brightness performance is improved compared to the original color, and up to 64 colors can be supported, so it perfectly satisfies the needs of various customers.
Comparison photos before and after work.
Before
After
Before
After
Before
After
Before
After
Before
After
This is a splendidly transformed Mercedes-Benz.
The ambient color can be changed to 64 colors through the genuine command.