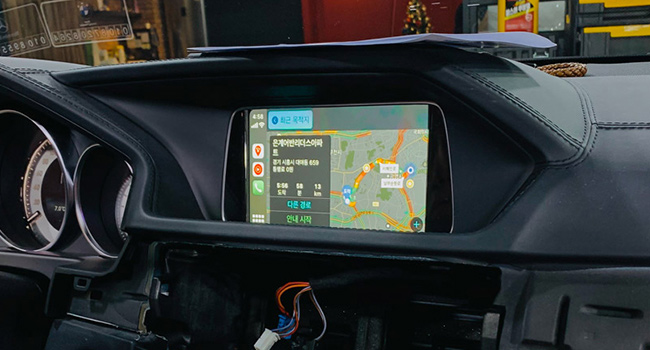 23 Jan

Mercedes W212 Apple Carplay & AUX Activation
Mercedes-Benz E-Class E300 W212 Comand NTG4.5
iPhone Apple Carplay Retrofit & Activation the Aux in Engineering Mode.
Devices Used : – SCB-NTG4.5 Universal CarPlay Interface
The SCB-NTG4.5 is compatible with Mercedes-Benz COMAND APS NTG 4.5 (ONLINE) and AUDIO 20.
Full Digital, Full Screen, Correct Ratio!
iPhone Carplay and Android phone android auto.
Controlled by original jog shuttle.
Original mic and speaker through Quad lock connector.
Reverse cam input.
Front cam input.
HDMI input
This Benz doesn't have any other devices installed, and it arrived to install CarPlay for the first time. The SCB-NTG4.5 CarPlay model is used with this vehicle. All cables required for installation are included in the package, and all cables are plug-and-play so there is no damage to the original wirings. The main cable is a quad lock type and is connected behind the head unit. Power, CAN, Sound and microphone are simply connected via this cable. In the case of NTG4.5, sound & speaker connection is also simple, as AUX can be activated in engineering mode. In addition, we provide instruction manuals to help buyers easily install the product.
We connect all the cables to the head unit, and set the dip switches, and then test the carplay system to make sure it works before reassembling the parts. The smartphone connection can be either wireless or wired, but we usually connect the phone with a wired connection to use the system reliably. If you connect CarPlay wirelessly, there may be intermittent disconnection. Also, when connecting the iPhone by wire method, we recommend using a genuine lightning cable.
You can use navigation apps, music apps, and call functions in the CarPlay system. In addition, voice recognition through 'SIRI' is supported.