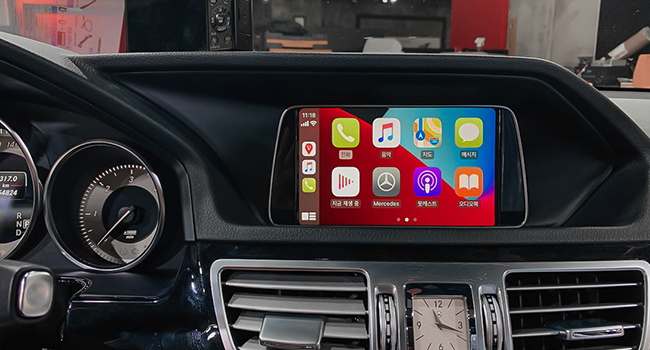 08 Oct

Mercedes W212 NTG4.5 Apple Carplay Device
2014Year Mercedes E250 W212 Carplay and Android Auto Build up!
Full HD type, High Resolution system.
Using same as oem system with oem buttons.
No need to cutting wire
"All wires are Connected by connector"
Easy to install
Supports wireless Car Play and wire
Supports Smart Phone Mirroring​
HDMI in put (720P)
Supports CVBS in put (external rear camera)
Supports CVBS2 in put (external front camera)
The SCB-NTG4.5 carplay interface will be installed. The main body and quadlock main connector is connected to the back of the head unit. The microphone and speaker(AUX) use the original system.
I created an additional USB slot in the armrest console to connect the phone for carplay use. The carplay system is controlled by the original jog shuttle.
Once the carplay interface is successfully installed, all features supported by the original Carplay platform will be available, Voice recognition through 'SIRI' also.