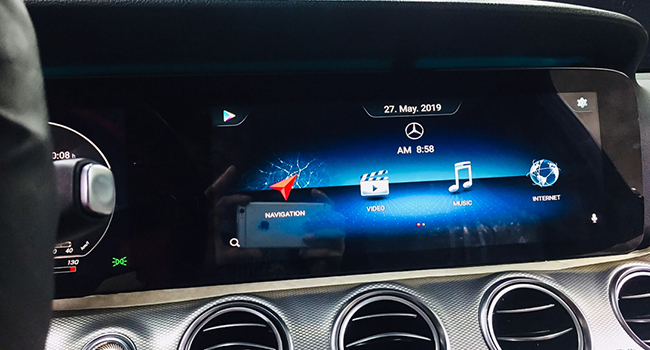 28 May

Mercedes W213 HD Android Car Tablet Wtih Touch Control
Mercedes Benz E-Class W213 In The INDIWORK Garage.
———-
* High resolution Android system with capacitive touch panel
Devices Used :
– A-LINK-HD-NTG55 (Interface Integrated Android Settop Box)
– 12.3-inch Full Glass Capacitive Touch Panel
– AUX-USB Cable
– Xiaomi TV
1. With the Deca core (10Core) CPU, a sense of speed comparable to that of a smartphone.
2. Android OS is Nougat. And it supports PIP function.
3. Possible control with jog shuttle and mouse pad.
4. Use the HDMI device such as Xiaomi TV via HDMI INPUT.
5. Supported the multi-touch function with capacitive touch panel.
6. Resolution 1280 * 720P
The Mercedes-Benz W213 is the most installed model, and we have a lot of experience and references to it.
Installation of A-LINK-HD-NTG55 is completed, this is the main UI.
I connected a Xiaomi TV to the HDMI INPUT on the Settop box. The screen can be switched with the original button.